From the minds of Jumana Al Hashal and Jason Thompson come the world's only comic-drawing games… Cartooner and Mangaka!!
Cartooner and Mangaka are fun, fast-paced games that let everyone experience the thrill of creating comics and coming up with stories — no drawing skill required! Start by drawing three Theme Cards to determine the subject of your comic. Then, you and the other players must draw comics about your Themes before time runs out. Fleeting Trend Cards add another dimension of strategy: will your fickle readers demand Science Fiction, Shojo Manga and Otaku themes (from Mangaka) or Superheroes, Funny Animals and Noir (from Cartooner)?
Each game has over 180,000 potential combinations of Themes, and each round brings more Panels to draw and Trends to chase than the round before. Since you're never judged on how well you can draw, it's not about who's the best artist… it's about how you play the game! When the final round ends, the winner is the one with the most Fame Tokens, but every player ends the game with a comic of their own creation.
Funded by Kickstarter backers, both Mangaka and Cartooner are co-published and distributed by our friends at Japanime Games. Each game features 52 Trend Cards and 136 Theme Cards. Either one can be played as a standalone game, or combined with its partner for a whopping 104 Trends and 272 Themes!
If you're a retailer, buy Cartooner and Mangaka here directly from Japanime Games!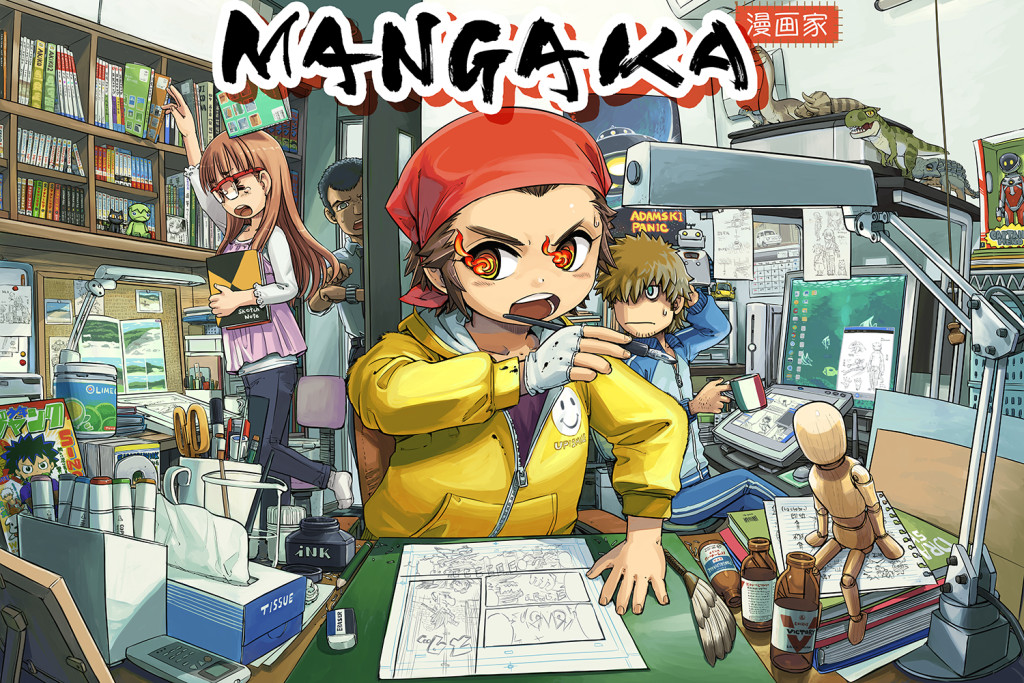 FOR MORE INFORMATION & UPDATES:
* Mock Man Press Twitter
* Mock Man Facebook
* Mock Man Instagram
* Konstantin Pogorelov Instagram (artist for Cartooner)
* Jumana Al Hashal Instagram (codesigner for Cartooner)
* Eric "Woof" Muentes" (artist for Cartooner)
* Mangaka on Boardgamegeek
* Cartooner on Boardgamegeek
GAME INFO (CARTOONER OR MANGAKA):
* 1 to 8 players
* 45-90 minutes (based on number of players)
* ages 12 and up
PRAISE FOR MANGAKA & CARTOONER
"Mangaka is a keeper.…While I'm not a skilled artist, my kids and I love drawing and storytelling. Sharing the comics and laughing with each other's jokes and drawing (or lack of drawing) skill was a great family experience."—Ryan Hiller, Geekdad
"A hell of a lot of fun…Makes drawing and sharing comics with your friends a real joy and a hilarious competition."—Jonathan Bolding, The Escapist
"It was one of the best games I ever played…It's super cool!"—Jadah, 8th grader
P.S. Already used up all the drawing paper that came with the game? Click here to download and print extra drawing paper for free!