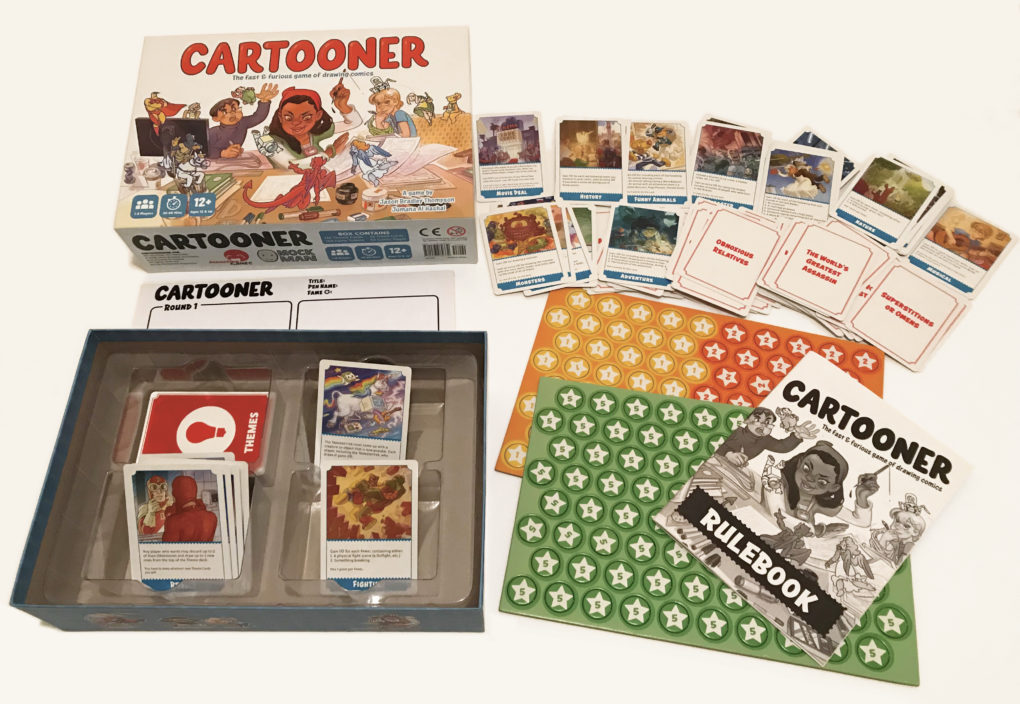 "A comic book fan's dream…I was pleased to find out that your score has nothing to do with writing or artistic talent. Rather, the scoring system is through "Fame Points," which you get earn based on how many times you incorporate your themes and challenges into your panels. It provides for a lot of creativity, and makes for some pretty hilarious moments."– Beth Elderkin, io9.com
Make the world's greatest comics, no drawing skill required! This epic battle game lets everyone experience the thrill of creating and sharing their own stories in comics format with nothing more than stick figures!
Featuring beautiful artwork by Konstantin Pogorelov, Cartooner lets you step into the shoes of a comic artist seeking fame, fortune…or just to entertain your friends. With literally hundreds of thousands of possible combinations of story prompts, you'll never run out of ideas! Kickstarted in 2017, printed in 2018 and designed by Jumana Al Hashal and Jason Thompson, Cartooner draws on our experience making Mangaka to make a new creative game everyone can enjoy!
136 Theme Cards giving you fertile material for comic-making, such as Desire to Save the World, Haunted Houses, Reality Television, The World's Greatest Assassin, Pirates, Dinosaurs, Obnoxious Neighbors and more
52 Theme Cards bringing new and interesting ways to get Fame: Superheroes, Mutants, Destiny, Disasters, Nature, Funny Animals and many more. Play it safe and tell the story you want to tell, or gamble it all with high-value, high-risk cards like Deadline and Movie Deal!
Fame Tokens and 64 pages of Drawing Paper (download more here)
Completely compatible with Mangaka
Buy Cartooner now from Japanime Games!
Art by Konstantin Pogorelov